Fortinet FortiCloud

Cloud Based Security Management and Log Retention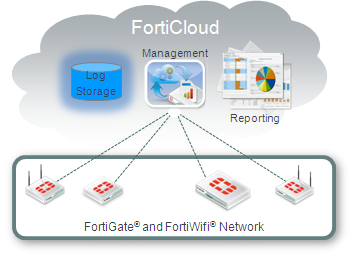 הערות תמחור:
שימו לב: כל המחירים באתר כוללים מע"מ.
החיוב יבוצע על פי שער "העברות והמחאות מכירה" של המטבע (דולר אמריקאי) ביום אישור ההזמנה.
מחירי המוצרים וזמינותם כפופים לשינויים ללא הודעה מוקדמת.
Overview:
FortiCloud is a hosted Security Management and Log Retention service for the FortiGate product line. It gives you a centralized reporting, traffic analysis, configuration and log retention tool without the need for additional hardware and software. It provides a subset of the FortiAnalyzer (Logs) and FortiManager feature set:
Traffic and Application Visibility
Real Time Log Monitoring and Alerting
Hosted Log Retention
Reporting and Analysis
Configuration Management
The FortiCloud service has 5 main functions available:
Dashboard – System and Log Widgets plus Real Time Monitors
Log Viewer – Real time Log viewing with Filters and download capability
Drilldown Analysis – User and Network Activity Analysis
Report Generator – Create and Schedule Reports
Device Management – Configuration back-up (including firmware), Configuration History, Script Management, Alert Profiles for real time monitors
To get started please activate your free 1GB FortiCloud service via your FortiGate or FortiWiFi dashboard licensing widget. Remember to register your device before starting the activation process.
FortiCloud Features & Benefits
Simplified central management
Aggregated or individual device views
Traffic and Application visibility
Expandable Hosted Log Retention
Real Time Monitoring and Alerting
Customized or pre configured Reporting
Traffic Analysis
Configuration Management
Consistent backup and upgrades
No hardware or software required
No on premise deployment needed
No maintenance and operation costs incurred
Simplified central management for your FortiGate network
FortiCloud provides a central web-based management console to manage individual or aggregated FortiGate and FortiWiFi devices. Adding a device to the FortiCloud management subscription is straightforward; FortiCloud provides detailed traffic and application visibility across the whole network.
Hosted log retention with large default storage allocated
Log retention is an integral part of any security and compliance program, but administering a separate storage system is burdensome. FortiCloud takes care of this automatically and stores the valuable log information in the cloud. Each device is allowed up to 200Gb of log retention storage. Different types of logs can be stored including Traffic, System Events, Web, Applications and Security Events.
Features & Benefits:
Key Features & Benefits:
Dashboard
System and log widgets plus real-time monitors allow you to see exactly what's going on inside your network at any time.
Log Viewer
Real-time log viewing with filters to zero in on any potential issues or suspicious events.
Drilldown Analysis
User and network activity analysis for granular visibility of activity.
Report Generator
Create reports in different formats including PDF to measure policy compliance or illustrate network usage patterns.
Device Management
Allows you to maintain your devices to the latest revisions of software and optimize/standardize settings across the network.
Deployment: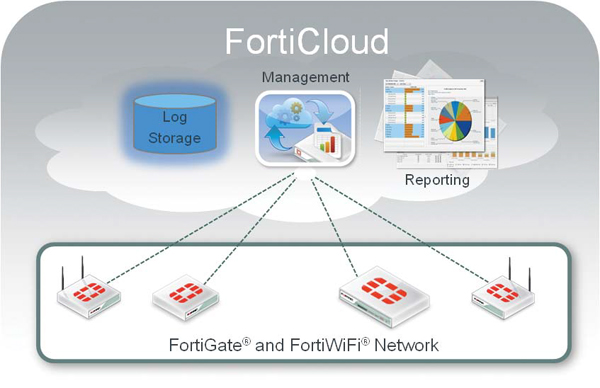 Monitoring and alerting in real time
Network availability is critical to a good end-user experience. FortiCloud enables you to monitor your FortiGate and FortiWiFi network in rea-time with different alerting mechanisms to pinpoint potential issues. Alerting mechanisms can be delivered via email.
Customized or pre-configured reporting and analysis tools
Reporting and analysis are your eyes and ears into your network's health and security. Pre-configured reports are available, as well as custom reports that can be tailored to your specific reporting and compliance requirements. For example, you may want to look closely at application usage or web site violations. The reports can be emailed as PDFs and can cover different time periods.
Maintain important configuration information uniformly
The correct configuration of the devices within your network is essential to maintaining an optimum performance and security posture. In addition, maintaining the correct firmware (operating system) level allows you to take advantage of the latest features.
Service security
All communication (including log information) between the devices and the clouds is encrypted. Redundant data centers are always used to give the service high availability. Operational security measures have been put in place to make sure your data is secure — only you can view or retrieve it.